Have you searched for a guide to get started in real estate investing? When I got started years ago I had to learn everything the hard way. I went to conferences all over the country. Sometimes I made mistakes that taught me some serious lessons. But, thankfully now I can teach others how to do what I've enjoyed doing for years.
The Simple Guide to Get Started in Real Estate Investing
Before I chose to get started in real estate investing, I worked with my mom and dad at one of their businesses: flipping dump trucks. After some time I noticed that my investor mom was receiving "mailbox money." And, I wanted to know how I could get that coming too! That was the start of a whole new life for me. So many amazing twists and turns have come with it, but also incredible wealth and opportunities like never before.
And now, it's your turn to learn how to get started in real estate investing!
Tell Everybody!
First and foremost, before you can really do much else, you have to come to terms with this fact of business: you have to open your mouth and talk. I know in this day and age so many of us are totally consumed with our own little digital world. But to buy houses and start investing in real estate, start connecting with people. You have to start talking.
Tell everyone you know and meet about your intentions. "Hey, I'm Whitney. I buy houses!" This was printed on tee shirts I made, signs I printed, and more. It was my key to getting the word out to our local community that I was an investor ready to buy houses.
Share your goals, the kinds of houses you're looking to buy. Tell people the kinds of people who might be interested in working with you to sell their house, etc. Post what you're doing on your favorite social media network and start spreading the word.
You can do this with mailers, paid advertising, etc. but why? Often I've found that free leads are easiest, but you just have to open your mouth and start talking. Tell people that you buy houses that are in repossession, or are in default. Or the ugly houses, or pretty ones, or inherited ones, etc. I prefer to stay away from foreclosures and such, but that is up to you.
Choose Your Plan for Financing Your Investment
There are a lot of different options to choose between when it comes to financing your real estate investment. You can go with conventional methods, or options that fall under "creative financing." Whatever path you decide to go choose, make sure you have a plan in place to make good use of your method and ensure that the bills get paid properly.
Some of the financing options you may consider include: pay cash, a conventional mortgage, FHA/VHA loans, hard money loans, owner financing, private loans, lease options, etc. My absolute favorite financing method for my properties is lease options. I have used this as my primary financing method for years with great success. This is why it is the key option I teach in my courses. In my opinion, the more I can use other people's money to make my fortune, the better.
If you want to give lease options a try, check out my full course to get your first deal done fast.
Face Your Fears and Jump In
I know how difficult it can be to start something new. But, if you ever want to get to the other side of your dreams, you've gotta learn how to face your fears and take action. The thing about success is that it does not happen without a lot of little choices to face a struggle or uncomfortable situation. You just gotta jump in and start swimming, even if it is hard at first.
I remember the first time I bought a property. There was this real estate auction that I happened to come upon and a bunch of these guys were bidding on the property. I asked one guy what was happening, and he just says, "Make a bid." So, I did. And then I bid again…and again…and again, until finally I had the bid and the property was mine. It was a whirlwind, and I honestly was near catatonic at the end, so I did not even know how much I had spent. When all was said and done, though, I owned a few acres of property and had paid about $1500. And, I didn't do anything with it. But, I was hooked.
Follow the Rules
I have learned that there are some pretty important rules to follow if you want to succeed in real estate investing. You, of course, don't have to follow these. But, I truly believe that if you do that you will be far more setup to have a great run as a real estate investor. Here are my rules:
Don't fall in love (with a property) – these houses do not have to be your primary house. Remember: they're investment houses. They need to be

nice enough

for someone else to move into.

No agents – though I have had my license and been a broker, it's caused me far more problems than anything, so I've gotten rid of it. You do NOT need a license to do these deals.

Must be current on payments – I don't deal with foreclosures or with people who are behind on payments. To make my investments as clean as possible the property needs to be owned free and clear, or current on payments, otherwise it's not the investment for me.

Vacant – in order to move with these deals quickly, they need to be vacant- EMPTY. I don't want anything there except dust.
Though not everyone is always a fan of these rules from the get go, most of my clients come around pretty quickly. These are just good 'ole common sense protections for you and your investments.
Learn How to Close the Leads you Get
Many of my clients find that they can easily bring in leads for potential investment properties. But, they often struggle to transition the lead into a closed deal. In order to become successful in real estate investing, you have got to learn how to talk to people in a way that helps them know they are safe with you. I find that far too many investors come off too strong and aggressive, which pushes sellers away. No one wants to be used to line your pockets. This is not about you. Don't try to sell them on your own agenda.
I teach my clients to present sellers with options to support their ultimate goals and are ideal for their situation. Sellers need options, not to be backed into a corner. Don't ever forget that you are here to serve the seller, too, not just your own financial goals.
Learn From Your Mistakes and Misfortunes
No matter how much you try, the fact is that things will happen that throw a wrench in your plan. Deals will fall through, numbers won't work, tenants will need to be evicted, etc. This is just the necessary work of a real estate investor. But, don't let these things deter you. Every struggle and frustration is an opportunity to learn another lesson. If a challenge and seeming disaster happens along the way, learn from it and do better next time.
I believe that even the failures of this journey need to be celebrated! It is important to learn how to say no to a bad deal, or walk away from a seller who is unwilling to come to an agreement. No seemingly negative experience is a waste if you learn from it. ALWAYS learn from your mistakes and misfortunes.
Invest in Your Education
When I first started in real estate investing I went to just about every conference I could find on the topic. I read countless books, talked to every investor I met, and learned as much as I could. Though I may not have used every piece of that information, the hours I spent learning have made me millions! If you want to build wealth you must first invest in your own education.
Thankfully, accessing information is easier than ever through the advancement of the internet. There are ample courses available, conferences to attend, books to read, etc. I have even put together a free webinar video to help you learn how to find off market properties to start your investment journey.
If you prefer to move faster, though, you need a clear system and process to help you do it. This is why I put together my course First Deal Done Fast, so that you could get started making money quickly by benefiting from my many hours of education. Then you can start practicing what you learn right away.
Invest in a Mentor & Learn to Do What They Do
Not everyone is ready for a mentor and the investment that comes along with it. But if you are truly serious, a mentor will absolutely help you to succeed. My mentor has been invaluable to my financial success. I have learned so much more through our talks and interactions than I ever would have been able to put together on my own.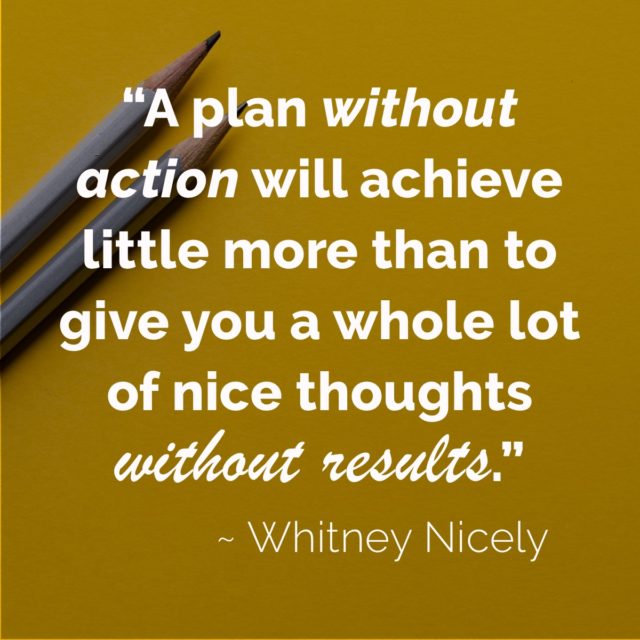 Believe in Your Dream & Don't Give Up
I did not have a great support system in place when I first decided to get started in real estate investing. In fact, my boyfriend at the time was really negative and dismissing of what I was trying to do. He still continued to say that this was all just a fluke and I was wasting my time, even after I had made thousands.
So, you know what I did? I dumped his butt! There was no way that I was going to let his negativity and criticism keep me from doing what I love. I believed in myself enough to set a boundary around my life, and held it firmly when it was attacked. And you know what happened? He came back a few days later and apologized for his foolishness. Then, he got on board.
Your dreams and financial goals are worth it! Don't let someone else's criticism and ugly talk keep you from achieving your dreams. If they want to stay financially stuck and dependent, that is on them. You get to make your own decisions for your financial future (see my post on "How to Build Wealth by Investing in Real Estate").
Get Started in Real Estate Investing
It is time to cut this short, though I could write volumes on all of the pieces of information I know would be useful to you while you get started in real estate investing. Bottom line: if you want to achieve your dreams, you've got to jump in and get started. A plan without action will achieve nothing more than to give you a whole lot of nice thoughts without results. My hope is for you to see your dreams come to life!
Ready to just get moving and jump into action? Get started now with my premier course to teach you everything you need to know. Your financial future matters. Not only will you get all the instructions and teaching to get you moving fast, you will also get connected with an amazing group of other investors with which to share ideas, get inspired, learn from, and grow. Enjoy the benefits of financial education on your own timeline, since the entire course if self-paced.
Some of my ladies have gone from making no money in real estate investing to making thousands within weeks. There are a variety of strategies and solutions available to you. Grow the confidence to get the deals you want as fast as possible. See you there! Click HERE to get started now!
You Can Do This!
I know you can succeed in real estate investing, no matter how you get started. Jump in, get started, and enjoy your financial rewards!
What is stopping you from getting started? Comment below and let me know.
Check out these additional resources to help you on your journey:
')}